Rule violations
Depending on the project configuration, rule violations and recommendations for filling out forms can be shown.
A rule violation can occur, for example, if
a required input element was not filled out,
if more characters were entered in a text input element than allowed or
if input was made that is faulty content-wise or formally.
Moreover, under certain conditions defined by the template developer, individual input elements of a form disappear or are changed depending on input in other input elements of the form.
Representation of rule violations
Depending on the configuration made by the project developer, any violation of a rule will be shown
immediately when editing a form (with each entry) or
when using the button "Save".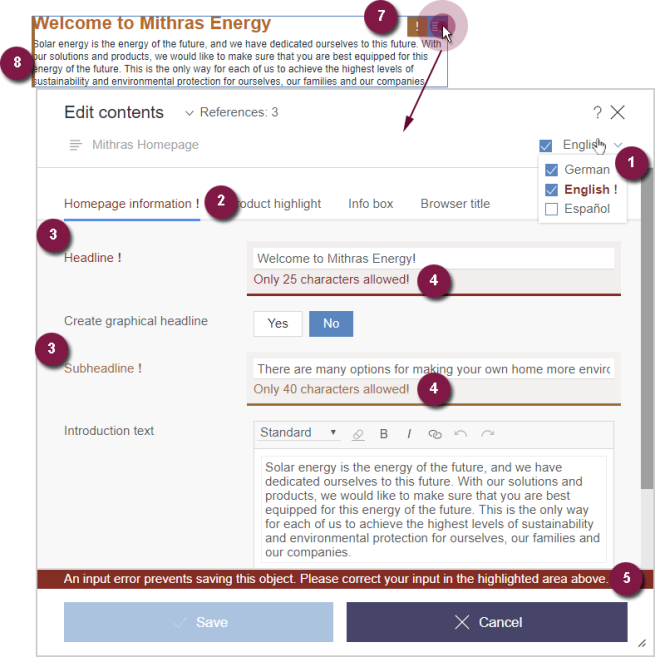 Colorful writing in the language changer indicates that rule violations are pending in one or more Languages. Additionally, on the bottom border, a corresponding message appears (see also section Notification levels, below).
If a form contains tabs (grouping), tabs on which rule violations are pending are marked in color.
Every individual input element for which a rule violation is pending is emphasized in color.
There are (language-dependent) correction notes which are shown, as long as these were defined by the template developer.
Alongside these correction messages defined by the template developer, a correction message is automatically displayed by the system.
If there is a saving or release-preventing rule violation on a page (see paragraph Notification levels, below), you can open the affected form by clicking on the according entry within the element status under "Validation issues" (see page Element status), and correct it directly.
According to the specific project configuration rule violations are shown by a orange exclamation mark in the icon bar on the current preview when you move the mouse over the area (see also the page on Edit sections).
Likewise, the area is marked in orange if you move over it using the mouse.
Notification levels
For rule violations, there are three notification levels with different representations and effects for the user:
Correction recommendation

A correction recommendation is suggested.
The element can be saved and released.
prevents saving

There is a rule violation (marked red).
The input must be corrected so that saving will be possible.
prevents release

There is a rule violation (marked orange).
The element can be saved. The inputs have to be corrected so that a release is possible.