Rich text editor (CMS_INPUT_DOM)
The rich text editor is intended for larger text entries with formatting and link inputs. The functions and icons available to the editor in the specific rich text editor depend on how the template developer configured it.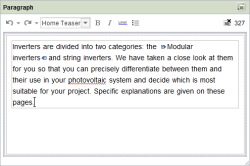 If the project developer has defined a default value for the input form, the "Reset to default value" icon

or the "Adopt default value" icon

is located in the top right-hand corner.
Depending on the project's configuration, a spell check can be carried out within the input form.

The height of the input component is continuously adjustable thanks to the adjustment handle in the bottom right-hand corner. However, the height of the input component cannot be reduced below the minimum height stipulated.

Open in separate window: Click this icon to open the Editor window in full-screen size to be able to edit large amounts of text comfortably. The window is closed by clicking the "x" icon in the top right-hand corner or by switching to the view mode. The contents of the large window are then always automatically copied into the small window.
For more information please see Chapter Working with rich text editor.
| | |
| --- | --- |
| | Depending on the template developer's specifications, the functionality of the license-dependent module FirstSpirit OfficeConnect may be available. This module is used for importing formatted content from Word documents using the icon. For detailed information see the FirstSpirit OfficeConnect module documentation. |