Working with rich text editor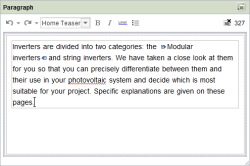 The rich text editor is provided for large formatted text entries. All functions of the icon bar, the context menus, and the corresponding keyboard shortcuts for the rich text editor are explained in this manual.
Formatting can be defined both for highlighted text fragments and for whole sections. Formatting can be deleted using the context menu.
Links will be inserted at the actual position of the cursor using the corresponding icon. Links can be deleted using the context menu.
Lists can be realized using the corresponding icon. For more detailed information page Lists: Generating lists and the following.
Tables can be integrated into continuous text (so-called "inline tables"). They provide a variety of layout options, down to the cell level. See page Integrating tables.
Depending on project configuration spell check functionality may be available. See page Spell check.