"Actions" menu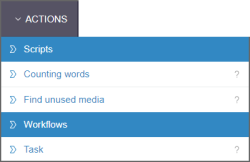 These menu items provide - if available - general functions that are not generally related to the currently selected element, and can vary from project to project. For example:
Workflows
workflows "not linked to context"
(see also Workflows page)
Scripts
project-specific functional enhancements
PlugIns
project-specific functional enhancements
Click to start the required function.
Project-specific pull-down menu

Actions can also be displayed in a project-specific pull-down menu, depending on how the project has been configured by the project developer.
For more information about configuration, see Plug-In Development / ContentCreator Extensions / Interactive Features / Toolbar Menu Items / Functional Overview (→FirstSpirit Online Documentation).