The global search
The global search function is located above the project content on the left-hand part of the screen. You can use the input field to start a global search. The search results are displayed directly on the left-hand part of the SiteArchitect screen where the project's tree structure is normally displayed.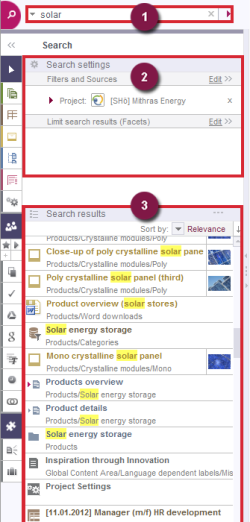 The global search can be divided into three areas:
Search field: Enter the term you want to search for in the search field.
Search Settings: Limitation of the result list by search criteria.
Search results: List of achieved results.
Some further options to refine and access search:
A full-text search is performed, which is not case sensitive. Search terms can therefore be entered in upper and lower case letters.
If several search terms are entered, the search for these terms is based on an AND operation; only objects that contain all the search terms entered are displayed in the results list.
Not only object names are searched through, but also content (e.g., of pages, datasets or media); in the case of media, text in the "Description" field is also searched through.
In addition, searches can also be carried out for items other than full text, e.g., searches for input components which have not been populated or searches for numbers or dates.
| | |
| --- | --- |
| | The search in the Data Store is fully integrated into the FirstSpirit search. The search/selection dialogs via which the Data Store can be accessed can also be used to search through the Data Store. These searches are not case sensitive and can be performed across multiple tables. |
The search dialog can be left open without restricting further work in SiteArchitect. In this way, for example, it is possible to drag-and-drop the search results into SiteArchitect, e.g., the editor can drag a medium directly from the search results into the image input component of a workspace. The search results are displayed until a new search is performed. After using the icons in the vertical tool bar to change to a store or another area, click the Search icon

to switch back to the search results.
Input components may be configured such that their contents may potentially not be found via Global Search (parameter searchRelevancy).