Help
About FirstSpirit
This function provides an overview of some of the information about the version of FirstSpirit that is currently being used.
Click on "Show all details" to display additional information, for example about the used Java version and the operating system.
These data can be copied from this dialog for support inquiries and bug reports (for example by using the icon

):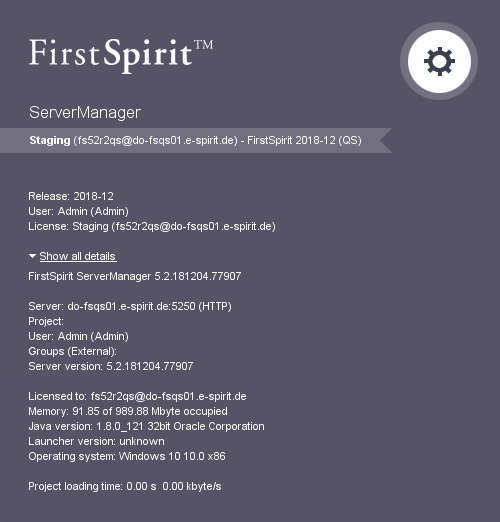 View log
With this menu entry it is possible to display the current logging of ServerMangaer in a separate window (see also following paragraph). By using the button "Clear all" it is possible to clear the log window. This does not affect the contents of the log file
Show log file in File Manager
Log messages of ServerManager and SiteArchitect will be stored separately for each started client.
The storage location of the log files on the user's client workstation is configurable (see configuration options).
Default option: the log messages will be stored in the user home directory of the respective user's client workstation.
The file names contain the client name ("ServerManager" or "SiteArchitect") and a timestamp (date and time) of the point of time when the client has been started, for example
ServerManager-2017-02-28T13-55-40.067.log
Log files will be stored up to a total number of 100 files or until all files have reached a combined size of 100 MB. If one of those limits is reached, the oldest log files will be deleted one by one.
The menu entry "Show log file in File Manager" opens the local storage directory. The file with the current logging will be selected. The timestamp as part of the file name helps to identify the log messages of previously closed clients in the storage directory.
Additionally, the current logging may be observed in a separate log window (function "View log", see above).
Index
Selecting this function opens the FirstSpirit Online Documentation in the browser.