Areas of the FirstSpirit start page
After the user logs in (automatically or manually), the FirstSpirit start page appears.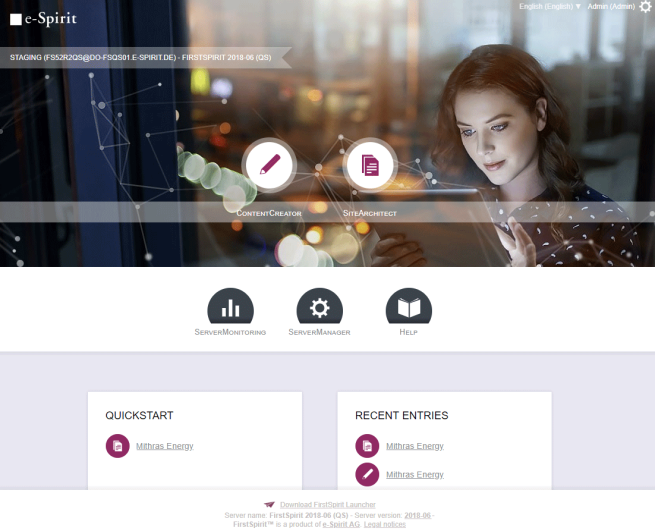 The start page provides the following functions:
Language selection: This drop-down menu can be used to specify the language used when working with FirstSpirit. The following languages are supported: German, English, Spanish, French, Italian, Dutch, and Russian.
Server information: information about the name and version of the FirstSpirit Server
Legal notices: information about third-party software used and installed modules
The applications can be displayed or hidden on the start page via groups / authorizations; the appearance may therefore differ from the default settings shown here.
The following options are available for starting FirstSpirit ServerManager and FirstSpirit SiteArchitect:
Via the FirstSpirit Launcher: The Launcher does not require a pre-installed Java environment.
Via another Java start system: You can use the

startpage.webstart.url

parameter in the

fs-server.conf

file to configure your own Java start system for the purpose of starting the applications (see Area: Misc).
Server information
Information about the name and version of the FirstSpirit Server can be found at the bottom of this page:
Server name: Name of the FirstSpirit Server. If a symbolic name has been defined for the server in the fs-server.conf configuration file, this name appears on the start page (see Area: Communication). If no symbolic name has been defined, then the host name from the access path is shown; calling the server via http://www.example.com:4050 therefore results in the server name "example", for instance.
Server version: The version information is provided automatically by the server. Clicking the version information opens a dialog containing detailed information about the server. This information includes:
The FirstSpirit version (release number, technical version number), the Java version, and version information for the web server and browser
Additional details about the FirstSpirit Server, the license, and the operating system.
Download FirstSpirit Launcher: This link can be used to install the Launcher locally on the workstation (see Starting applications (→Installation Instructions)).
Legal notices: information about third-party software used and installed modules