Introducing Content Experience Tools (CXT)
Many different roles are involved in the creation and distribution of content. Each one deals with a different aspect of the same content. As a result, the scope of each person's contribution can vary widely. A modern digital editorial strategy will include a multitude of areas of expertise, such as the following:
Editorial work (content creation)
Translation
Structuring and preparation of content for subsequent consumers
(Personalized) delivery of digital content
Analysis and evaluation of user interactions (web analytics, measuring success, etc.)
Implementation of marketing and PR strategies; planning and creation of campaigns
...
The right product for each user role
Each of these roles sets completely different criteria for the content experience.
One way of dealing with this is to integrate all features in a single product. So each time a new requirement is added, the range of features grows and the product will eventually become expensive and confusing and thus inhibits rather than supports the work process. Moreover, most users only need a fraction of this level of functionality. In fact, just one feature will do, while the next user – according to his or her role and duties – will need a different one entirely.
Our approach and the vision behind CXT: We want to offer our customers versatile content tools.
Every user is to get a tool tailored to his tasks.
True to the motto "Only keep what brings you joy. Own only what you need". With CXT, the very individual needs of individuals are put in focus. Each person or role gets exactly the view of the content they need and receives support for exactly the activities they can process according to their tasks or roles.
Example: While an "Author" needs extensive support in writing the content, the "Campaign Manager" is more concerned with the success of a marketing strategy.
Author:
Views: Primarily content-focused
Activities: Content creation, editing, deletion, release, etc.
Campaign Manager:
Views: Primarily yield and analysis – content only to a small extent
Activities: Campaign planning, target audience analysis, etc.
Each of the two roles thus requires its own view of the content and tailored support in carrying out the relevant tasks.

CXT: The tailor-made tools
In order to implement this role-focused concept, we are introducing a new technology – the Content Experience Tools (CXT).
With CXT it is possible to build tailored CXT clients from existing modules (called "tools"). Each of these pre-configured clients then offers an entirely specific view of a piece of content and support for individual tasks.
The author from the example gets a client which is designed / tailored from the ground up for creating and editing content.

At the same time, the "Campaign Manager" has a client focused on yield and analysis of this content which helps users plan and implement marketing campaigns:

Adding additional requirements
If work processes or business logics change or expand, the customer or partner can simply add suitable modules.
Example: A customer wants more help in terms of "campaign management" so that they can schedule campaigns better and couple them with discount offers or a bonus system.
A different customer wants to improve cooperation within their team and needs help in terms of "collaboration".

Integration of new tools into CXT clients
Each user or role receives a customized client that is completely tailored to their individual requirements and tasks:

Customers are free to decide which tools they want to use in their CXT clients and which they do not need.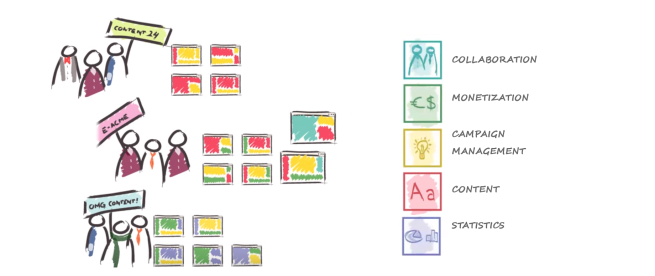 CXT – the platform
All Content Experience Tools are based on a common platform.
The CXT platform:
provides support for the integration of new tools
provides lightweight web services for FirstSpirit functions (login, user context, and workflow services)
offer greater flexibility for the implementation of specific project requirements
facilitates the use of a REST-API through which the CXT services can be accessed externally (e.g., from customer apps)
The tools:
are implemented by Crownpeak (or partners) as CXT modules and added to the platform
meet special requirements and can be used for a range of activities
can be developed quickly because they focus on a very limited range of functions
all make use of a consistent, easy-to-learn user interface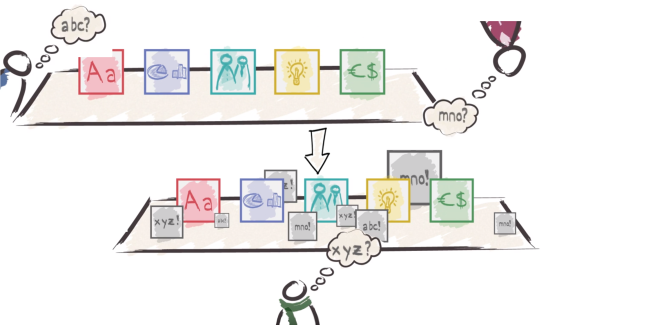 Summary
Content Experience Tools platform:
A growing family of Content Experience Tools
A homogeneous, flexible and scalable development landscape
Tailored CXT clients:
A focus on individual roles, e.g., creation of content fragments
Combining various views of content and activities
Features a standardized user interface
Smaller tools = more effective products
Manageable functionality
Delivering more value to customers in less time
Faster market launch ("time to market")
Note: FragmentCreator is the first step on the way to a Content Experience Platform.
The CXT concept described here provides a "vision" for the future and defines the goals and strategic framework for further development.